Sweet potatoes are very popular in Africa because they are tasty and nutritious, and are to mention relatively easy to grow. They make a great snack and are used in many delicious African dishes. Sweet potatoes are rich in vitamin A among other nutrients. The flesh of the sweet potato can be white, yellow or orange. Whether you want to grow sweet potatoes commercially or just for consumption, you could use these tips:
Choose a good variety of sweet potato
Although all sweet potato varieties are nutritious, the orange fleshed sweet potatoes are particularly rich in vitamin A. choose a variety that matures fast and that is resistant to weevils. The maturation period should match the rain period in your area. Of course if you are irrigating, the rain period will not matter. Some breeds are higher yielding than others. Some varieties are more drought resistant than others.
Farmers are careful to choose the right sweet potato vines for propagation. The stem, the roots and the leaves have to be completely disease free and there should be no sign of damage. The leaves have to be dark green and strong enough while the age of the vine should be around two to three months. Avoid any vine older than 5 months, any vine that has dry leaves or any vine that looks diseased.
Do not intercrop sweet potatoes with other tuber crops like potatoes, yams, or cassava. The crops will compete for nutrients in the soil and yields will be low overall. Instead, consider inter cropping with beans which will not affect the yields of the sweet potatoes and will not increase the amount of labor needed significantly.
Use correct spacing and ridging
Leave 12 to 18 inches between each slip planted and let every row be three to four feet away from the next row. The vines need a lot of space because they cover the ground. After planting, apply black mulch around the sweet potato slips to retain moisture so that it does not lose water and wilt.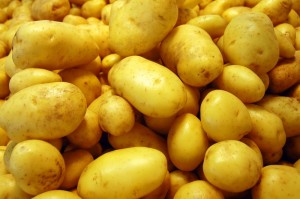 Create mounds or ridges for planting. Doing this helps to improve soil fertility, control weeds, control soil erosion, and makes harvesting easier. Three or four slips can be planted on one mound.
Apply manure, compost and organic fertilizer to add nitrogen, phosphorous and potassium to the soil.
Watch out for these dangers
Protect your sweet potatoes from beetles, wire worm, mice and moles which can burrow into the ground to eat the crop before you ever even see it.
Dry and cure after harvesting
Sweet potatoes need to dry on the ground for three hours after they have been harvested. Store them in a warm and dry room for around two weeks before they are ready for consumption.
Make full use of the plant
The root is not the only useful part of the sweet potato. Many people enjoy using the sweet potato leaves as a vegetable. Other sweet potato farmers in Africa feed parts of the roots, vines and leaves to farm yard animals like cattle and goats.