East Africa Dairy Development says that Kenyan dairy farm yields are substantially lower than the international standards. This is because of Poor and inadequate feeding. Most cows produce well bellow their potential because their nutrient intake is insufficient in both quantity and kind. Most smallholders feed their cows by letting them openly graze, mostly on common land, by the side of the road. This does not provide cows with sufficient quantity of food. Grazing is not normally supplemented by feeds, depriving cows from required level of proteins and minerals. The main reason for not using commercially or home-made feeds is their high cost. Also, the farmers often complain that the quality of commercial feeds varies, and is inconsistent. At the same time, some ingredients to make home-made feeds, such as cotton seed cake are not locally produced, and occasional shortages cab increase the cost of production.
Here's how I'm dealing with this issue and producing excellent yields in my cows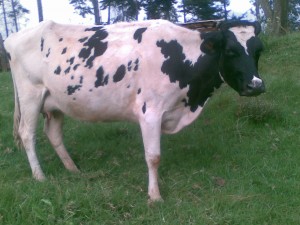 FEEDING
The breeds reared here are Friesian and Ayreshire and feeding is done according to the quantity of milk produced per cow. The cows are divided into the following;
Dairy cows
Heifer
Calves.
The following foods are given;
Free range feeding or grazing on oat and kikuyu grass fields
Oats and Wheat hay
Maize stalks (dry)
Molasses
Maize silage –  if you haver an acre of land it may be more economical to turn maize into silage, than to sell it as maize.  When maize is used to produce silage to feed cows – 30 tons of silage can feed approximately three cows for a year at 30 kg per day per cow. This can make your milk yield four times higher.
Dairy meal – mixture of maize germ, pollard, Soya beans, cotton seed cakes, sunflower, fishmeal and yeast. This can be bought at a low price when it are abundant and used during the dry season when its price is high and pasture is not available.
Feeding a Dairy Cow
If a cow is producing 25kgs of milk per day, I usually give 4-6kgs of dairy meal every day mixed with 60gms of Super Vitaphos Ultimax mineral supplements or use Maclik XP. The cow is then fed 8kgs of hay or maize silage and then allowed to graze in the oat fields.
Feeding a Heifer
Heifers need grains and roughages to provide their nutrition needs the first year of life. During the second year, roughages supply most of their nutrients needs. To improve health and prepare heifer for lactation offer mineral supplements like Maclik Plus or Vitaphos ad libitum.
Feeding a calf
Day 1 to Day 3, allow the calf to drink its mother's milk ad libitum (as much as possible). On Day 4, introduce calf pellets by placing a few countable pellets onto the milk urn after the calf has drunk the milk. Milk feeding at the rate of 2kgs should be done 3 times a day and continue for one week.Day 5, introduce clear and clean water in limited quantities. Also increase calf pellets to a half handful.Day 7, introduce hay or pre wilted napier, reduce milk to 2kg in 2 times per day. Also increase calf pellets. The regime should continue as you increase the amount of pellets and pasture and reducing the milk uptake gradually from the 2nd month and wean the calf before the 3rd month.
Month 4, the calf should be weaned from calf pellets to young stock pencil which is slightly lower in protein value.
Kindly note that the calf should be dehorned on the 3rd month.
QUESTION – Hi. Please give the quantities of concentrates to make dairy meal. Thanks
Commercial supplements such as dairy meal are estimated to cost about 20% of the total cost of milk production hence reducing the farmer's profit. Making dairy supplements using locally available and less expensive feeds can help farmers to realize higher milk yields at a lower cost of production.
How to mix the Dairy Supplements
To make 100kg of the supplement use the following:
a.75kg energy feeds i.e 75% examples 57kg maize germ, 18 kg wheat pollard
b.23kg protein feeds i.e 23% examples 17kg lucerne hay, 6kg soya meal
c.2kg minerals i.e 2% examples 1/2kg Dicalcium Phosphate 2kg Ultimax salt (from vetcare).
Examples of high energy feeds are Maize germ, Wheat pollard, molasses, maize bran, wheat bran.
Examples of high protein feeds are lucerne hay, cotton seed cake, soya bean meal, sunflower seed cake, sesbania leaves, calliandra leaves and fish meal.
Please use what is locally available in your area. We would be glad to hear from you again.