We are frequently asked questions like these:
How much does a goat cost in Kenya?
How much does a chicken cost in Africa?
How much does a cow cost?
We have compiled this list of animals to help answer these inquires. All these animals, are in excellent health and would be regarded as top quality. They are also available for sale.
1. Dairy Cow
Holstein or Friesian – black and white in color
Milk Output – approx 20 litres per day.
This is an good cow with history of milk production
Current Milk Price in Kenya (2010) – 30-35ksh per litre
3 Years old.
Gestation – 2 times
Value/Cost = 120,000 ksh
Approx. =  $1600 usd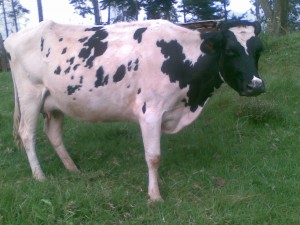 2. Beef Cow
A good cow
Weight – aprrox. 200 kilos
Value = 22oksh per kilo
Cost = 44,000ksh or approx $500 usd
3. Sheep
A good one
Weight – aprrox. 30 kilos
Value = 300ksh per kilo
Cost = 9,000ksh or approx $120 usd
4. Goat
A good one
Weight – aprrox. 20 kilos
Value = 300ksh per kilo
Cost = 6,000ksh or approx $80 usd
5. Poultry
Option # 1

– indigenous chicken
Broilers – for meat
Cost = 500ksh or approx $8 usd
Option # 2

– non-indigenous chicken
Exotic meat – it's sweater
Cost = 850ksh or approx $11 usd
6. Fish
Type = Tilapia
Size – Plate Size
Cost = 300ksh or approx $4 usd
All of these animals are for sale
Pick-up in Nyharururu
Nyahururu is a town in Kenya, lying east of Nakuru
For more information email us at enjoyfarming@africafarming.info