CURRENT REALITY of Dairy Farming in Kenya

Calculated at international prices, cow milk is the most significant agricultural commodity for Kenya. (FAOSTAT)
The formal Dairy Farming in Kenya industry is now the fastest growing agricultural sub-sector in Kenya.
There are over thirty registered Dairy Farming in Kenya processors in the country, but four large processors dominate the industry.
These four account for over 92% of the formal market. This group of three is constantly looking for new milk sources to fill processing plants to capacity; capacity utilization in the industry is at a low 40%.
In the informal Dairy Farming in Kenya market:
70-80% of milk production comes from smallholders of which there is an estimated 1 million households producing milk.
Most of the dairy production is concentrated in Rift Valley and Central Province. 53% of dairy cattle is found in Rift Valley and 25% in Central Province.
Due to low usage of commercial feeds and high reliability on available grass, the production is highly dependent on weather.
When compared to best practices, most of Kenyan smallholders practice the opposite. They do not use AI, do not feed the cows properly, do not water them properly and use a minimum, if any, preventive health care. This results in low genetic quality of cows which substantially under-produce even in respect to their already limited potential due to poor health and insufficient nutrient intake. Complete reliance on grazing also makes milk production seasonal.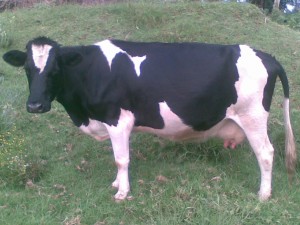 Dairy Farming in Kenya
My Story
I reside near Nyahururu town LAIKIPIA DISTRICT, Kenya, East Africa. I am a proud dDairy Farming in Kenya. I have 5 dairy cows (4 Friesians and 1 Ayreshire), 2 Heifers that have been served and three young calves (about 10 months old). I have three and a half acres of land where I graze as well as grow fodder for the dairy cows.
I have mixed system of farming or integrated farming whereby being a dairy farmer I also practice fish farming, poultry farming, sell fodder (hay) and grow subsistence crops. These farm enterprises make my overall operations more efficient and profitable. This comes about by sharing space, inputs, byproducts and labor.
However, dairy farming is my major source of income. Below are areas and activities in my dairy farm: